Revolutionizing Physical Therapy
Documentation, Career, & Treatment
As a Physical Therapist, you face challenges every day.
⏳ Documentation takes forever.
💲 Pay and reimbursement are stagnant.
💪 New treatments and products come out daily.
Physical Therapists deserve to love their work, find success in their careers, and come home to family – not documentation or job stress.
✅ I know what it's like to work as a Physical Therapist and feel burnt out.
✅ I understand how difficult it is to pay off $200,000 of student loans and finally achieve financial stability.
✅ I can relate to PTs who want to find a job they love and get paid fairly for their work.
That's why I started PTProgress – as a resource to help you make progress towards your goals.
Do These Goals Sound Familiar?
Your goal may be to save time and money by cutting your documentation time in half.
Or maybe your goal is to get paid what you're worth in a job that values your skill, knowledge, and contributions.
Some of you aim to pay off your student loans and finally get in shape financially.
Let's Make Progress Towards Your Goals.
PTProgress exists to help save you time and money as you work towards your goals as a Physical Therapist. From documentation templates to career development strategies for boosting income, PTProgress is a wealth of resources for finding success as a Physical Therapist.
It All Starts Here: Tools of the Trade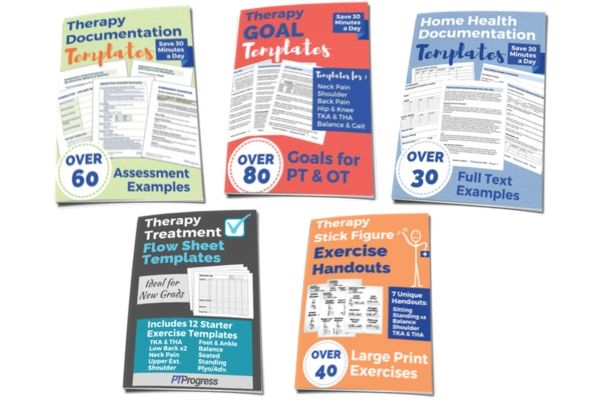 Documentation Templates – A few years ago I developed these templates for myself and started saving 1-2 hours a day on physical therapy documentation. Today, thousands of therapists use these templates to speed up their documentation so they can go home to their families instead of typing more notes. Learn more here.
Continuing Education – Stay up to date and save money with the latest deals on physical therapy continuing education. See how I spend less than $8 per CEU each year as a Physical Therapist, and find out how you can save $175 with this continuing education coupon.
Financial Therapy™ Templates – It's time to rehab your personal finances. As a PT and a Certified Financial Planner™ professional, I created these financial templates so that you can meet your goals and improve your financial health. Join hundreds of PTs who have decided to create their financial plan of care with the PTProgress Financial Therapy™ templates.
Blog & YouTube Channel – Check out the blog and YouTube channel for weekly articles and videos to help you save time and money and to help you make progress towards your goals.
Meet Tim Fraticelli
Hi, I'm Tim Fraticelli, a practicing Physical Therapist and Certified Financial Planner™ professional. As far as I know, I may be the only person crazy enough to combine these two professions. But I wouldn't have it any other way.
I started my career in finance back in 2008 – a great time to be in financial advising, for those who remember the financial crisis.
For 5 years, I taught clients how to maximize their savings and investments, and I really enjoyed learning everything I could about personal finance.
That passion for learning and teaching financial topics led me to start multiple financial blogs, which eventually grew into a side business that replaced the income from my day job.
This new-found freedom spurred another interest of mine: healthcare.
I've always been fascinated with human anatomy and personal fitness. So when I learned more about Physical Therapy, I knew I had to experience it firsthand. After shadowing a PT once a week for 6 months, I decided to dive headfirst into the profession. In 2013 I enrolled at Washington University in St. Louis and completed my Doctorate in Physical Therapy 3 years later.
On my journey to becoming a Physical Therapist, I realized there wasn't much information out there about our profession in terms of career development, continuing education, and other areas such as personal finance.
So I started PTProgress in 2013, and it's become the physical therapy blog I wish I had read when I first considered the profession.
Since 2016, I've been a practicing Physical Therapist in both the outpatient and home health setting. In addition to my work as a PT, I also use my education as a Certified Financial Planner™ professional to help PTs improve their financial health.
As a Physical Therapist and Certified Financial Planner™ professional, I've seen a surprisingly high amount of crossover between these disciplines.
People often need help achieving (and sometimes defining) their goals.
Success, whether financial or physical, usually requires a change in behavior.
It's easier to work towards goals and find success when following a plan from a professional, be it a PT or CFP®.
My goal is to help you find success. Whether you're rehabilitating a total knee replacement or sorting through your student loans, I want you to be able to approach your goals with confidence and succeed in reaching them.
So if you're interested in learning more about Physical Therapy career, treatment, and other strategies to improve your life in and out of the clinic, you're in the right place. Take a look at the resource page and blog to learn how you can use the tools from PTProgress to make progress towards your goals.
I'd love for you to follow me on YouTube, Instagram, Facebook, and email.
Tim Fraticelli, DPT, MBA, CFP®
Founder, PTProgress.com
Keep making progress towards your goals and I know you'll be successful.